Bathroom Remodel/Renovation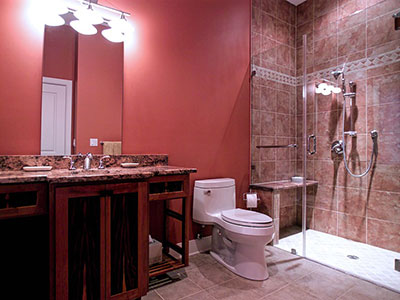 When you are considering upgrading the features in your home, you think about adding or replacing various features in the living spaces. However, very few people take bathroom spaces into consideration in these plans, and there is a distinct reason for this. Most homeowners consider bathrooms as spaces that are more utilitarian and they don't really think of focusing too much on the design aspect.

314 Design Studio provides excellent Bathroom Design services to customers across Annapolis, Severna Park, Stevensville and. They also cater to customers in and around Arnold, Chester, Cape St Claire and Kent Island. Over the years, they have handled a number of projects for customers in Centreville, Riva, Easton, Chestertown and Mayo.

They provide end-to-end bathroom renovation solutions. These spaces require expert design and planning and a number of services have to be deployed in this work. This means the entire project has to be planned in a very methodical manner.


Bathroom Design and Planning
The different things they take into account while planning bathroom remodels are:


The Current Layout And Features - Some homeowners like to retain certain existing installations in the bathrooms even when they are getting the space updated. For instance, you may have a shower stall or a bathtub that you want to retain, but wish to change the rest of the installations. Skilled bathroom installers are able to work on these requirements and will ensure that the new features and installations match the existing elements.


Bathroom Floor Plan - in some instances the floor plan of the existing bathroom space isn't planned well and this too can be rectified when you are getting this space remodeled. When all the installations are spaced well, it can give you more movement space and this makes the bathroom look more spacious and comfortable.


Color Theme - Very few people realize that the color theme in their bathroom spaces can make a significant difference to the way this space looks and feels. The bathroom planners will understand what your requirements are and will provide good color combinations that will lend the bathroom space the kind of look you want. While doing this, they will also ensure that the bathroom's color concept matches the theme of the bedroom it is attached to.


Fixtures and Fittings - This is another aspect that they will keep in view. Changing the fixtures and hardware is part and parcel of a bathroom remodeling project. They will show you different fixtures and provide information about the materials and styling. This will help you make a more well-informed decision.


Lighting - The bathroom lighting you choose can make a big difference to the way this area looks. The designers will ensure there are task lights and spot lights around the mirror and recessed lighting in the other spaces of the bathroom.


When you want bathroom spaces that blend in seamlessly with the look of the rest of your home, it's best to hire experts like the ones at 314 Design Studio. They will provide you customized solutions at Bathroom Remodeling cost that fits perfectly into your budget.

"MORE ARTICLES"
Bathroom Design
Bathroom Renovations
Kitchen Design
Aging In Place
Kitchen Remodel/Renovation

We ship anywhere in the US including: